The Aero-Solitude (Japanese: エアロソリチュード, Earo Sorichūdo) is a Racing Mini 4WD car released by Tamiya on September 17, 1992.
It was featured in the manga and anime Dash! Yonkuro as Kinjirou Sabu's machine.
General info
The Aero-Solitude, featuring the smooth body design, with the silver-color canopy that occupies most of the bodyshell. The front spoiler was attached to the front bumper and can be removed. Several decals can be found on the bodyshell, such as CoroCoro Dragon decals and the 'Super Aero' decal.
It is in blue, with white highlights and red/orange trims on it.
It was equipped with the gray large-diameter FM-type wheels with the black Avante-type slick tires. Both the chassis frame and A parts were molded in brown gray.
In media
Spoiler alert!
This section of the article may contains details concerning the progression of the plot. If you do not want it to be spoiled for you, skip this section!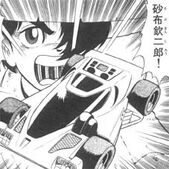 Originally appeared as Solitude (ソリチュード), the car was created using the design left by Genkuro Hinomaru. The car has the reaction control gyros in which stabilizes the car and even allows it to jump on water surface. In some ways, it is a sister car to Momotaro's Crimson Glory.
Later, Kinjirou, with the help of the black-suited men, figures out what's the missing part of Genkuro's FM design is and upgraded his car into Aero-Solitude. The upgraded Solitude contains the oil bath wet clutches.
The Aero-Solitude was eventually damaged severely when Kinjirou used his car as a shield to protect Yonkuro and Reppu from a bullet fired by Kurofuku during the final stage of the hell caravan race.
Technical info
| | | | | | | | |
| --- | --- | --- | --- | --- | --- | --- | --- |
| Variant | Body | Chassis | Wheels | Tires | Motor | Dimensions | Gear |
Standard
(18040)

Color: Blue
Material: PS

Type: FM
Frame: Light Gray, ABS
A parts: Light Gray, ABS

Size: Large
Type: FM-Type
Spoke: 6
Fitment: Staggered
Color: White
Material: Polypropylene

Size: Large
Type: Avante-Type Slick
Color: Black
Material: Med. Elastomer

Standard

Length: 132
Width: 86
Height: 41

5:1
4.2:1
Gallery
Boxarts
Trivia
With modification made to the motor mount hole, the main bodyshell, as well as the front spoiler, can be fitted onto the FM-A Chassis.
External links
Tamiya Japan