The Clod Buster Junior (Japanese: クラッドバスター Jr., Kuraddo Basutā Junia}) is a Wild Mini 4WD car released by Tamiya on September 27, 1988.
It was based on Tamiya 1/10 RC monster truck Clod Buster, which in turns based on the 2nd generation Chevrolet K5 Blazer pickup truck.
A modified Clod Buster Jr., named the Moby-Dick (Japanese: 白鯨, Mobī Dikku), was featured in the manga Dash! Yonkuro as Musashi's machine.
General info
The Clod Buster features the 4x4 pickup body design, with the rectangle-shaped, mesh-styled grills with headlamps on the front and the rectangle-shaped signal lamps on the rear. There's a large, silver-colored bumper on the front and a supercharger-like air intake on the bonnet. Behind the cab are the roll bars, with 5 headlamps on top of them. It was mainly in red, with black and yellow stripes on it.
It was equipped with the standard wild-type wheels with monster truck tires.
About the 1/10 scale monster truck Clod Buster
Released on September 21, 1987, the Clod Buster is a 1/10 scaled R/C monster truck released by Tamiya.
The chassis, dubbed the Clod, featuring the bathtub chassis frame and is supported by the front and rear solid axle suspensions linked with trailing arms and has 2 pairs of friction-type dampers on both front and rear. Each solid axles has their own gearboxes and 540-size motors, and has four-wheel-steering mechanism through rod linkages.
The chassis would be later re-used for the Bullhead R/C truck and later its successor, the Super Clod Buster.
In media
Spoiler alert!
This section of the article may contains details concerning the progression of the plot. If you do not want it to be spoiled for you, skip this section!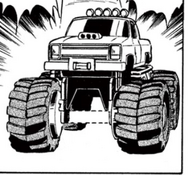 In the manga, Musashi owns the white-colored Clod Buster named the Moby-Dick.
Musashi and his gang challenge the Dash Warriors as he thought that the Racing Mini 4WD cars has no place for the Mini 4WD racing because those cars had stripped off the ability to run on off-road tracks to become the circuit machines. This led to the race in which his gang race against Yonkuro's Dash-1 Emperor and Genta's Dash-W1 Wild Saurus in the sewer.
During the race, Musashi revealed that he had modified his car to include another sets of gears to the other side of the chassis, eliminates the need to the driveshafts between the left and right wheels, doing so to making the car running better on even the harsher terrains.
Technical info
| | | | | | | | |
| --- | --- | --- | --- | --- | --- | --- | --- |
| Variant | Body | Chassis | Wheels | Tires | Motor | Dimensions | Gear |
Standard
(17005)

Color: Red, Black Smoke
Material: PS

Type: Wild
Frame: Black
A parts: Black

Size: Extra Large
Type: Wild
Spoke: 5
Fitment: Square
Color: Yellow
Material: Polypropylene

Size: Extra Large
Type: Monster Truck
Color: Black
Material: Med. Elastomer

Standard

Length: 142
Width: 125
Height: 96

75:1
See also
External links
Tamiya Japan