"
Akira: I will show you what a adult can do with his car.
Tankuro: It is clearly that we don't need your finance and we're not using money to win.
Akira: What!?
Punkuro: Besides, Shinkuro is even richer than you that even you brokes the ATM, you can't win.
"

— Akira's attempt to challenge Shinkuro, but only to be shot down by Tankuro and Punkuro in PHASE 1 of

Hyper Dash! Yonkuro

.
Daihatsu Kopen (Future Included) XMZ (Japanese: ダイハツ コペン XMZ, Daihatsu Kopen Ekkusuemuzetto), also known as Daihatsu Copen XMZ, is a Racing Mini 4WD car released by Tamiya on March 1, 2014. It was the standalone, regular version of the Tokyo Motorshow-exclusive Daihatsu Kopen RMZ and XMZ set and was released alongside the standalone Daihatsu Kopen RMZ.
It was based on the Concept K car of the same name by Daihatsu.
It was featured in the manga Hyper Dash! Yonkuro as Akira Omaezaki's machine.
General info
The Daihatsu Kopen XMZ shares a similar headlight and overall convertible body design with the RMZ, with the difference being the additional dark gray body parts that are not present with the RMZ and coming packaged with the Super-II Chassis instead of VS Chassis.
Unlike the limited set, the standalone XMZ has the Matador red bodyshell.
The XMZ also comes equipped with the metalic gray small-diameter 5-spoke Saber-type low-profile wheels, paired with the black low-profile slick tires. The chassis frame and A parts were molded in black.
About the Daihatsu Kopen XMZ
The Daihatsu Kopen XMZ concept car, alongside with its sister-car RMZ, were unveiled during the 2013 Tokyo Motor Show.
Its mass-production model, the Daihatsu Copen XPlay, went into production on November 2014.
In media
Spoiler alert!
This section of the article may contains details concerning the progression of the plot. If you do not want it to be spoiled for you, skip this section!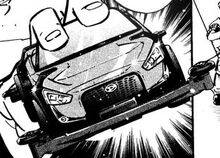 In Hyper Dash! Yonkuro, Akira Omaezaki brought the minicar during his visit to Sumeragi's model shop.
He later assembled it and wanted to challenge Shinkuro with it, but was quickly shot down by both Tankuro and Punkuro.[1]
Technical info
| | | | | | | | |
| --- | --- | --- | --- | --- | --- | --- | --- |
| Variant | Body | Chassis | Wheels | Tires | Motor | Dimensions | Gear |
Standard
(18082)

Color: Matador Red Pearl
Material: ABS

Type: Super-II
Frame: Black, ABS
A parts: Black, ABS

Size: Small
Type: Low-Profile Saber-Type
Spoke: 5
Fitment: Track-Only Stagger
Color: Silver
Material: Polypropylene

Size: Small
Type: Low-Profile Slick
Color: Black
Material: Med. Elastomer

Standard

Length: 150
Width: 97
Height: 49

4:1
Gallery
Boxart
Trivia
In the beginning of the PHASE 1 of Hyper Dash! Yonkuro, Akira Omaezaki was first seen driving the second-hand 2002 Daihatsu Copen convertible until it was crashed onto the electric cable pole while trying to avoid a cat on the road. (The cat was jump onto his face while avoiding Yonkuro's Emperor)
See also
References
External link
Tamiya Japan
Tamiya America