"Impossible! How the legendary dragons got into this world!?"- Yonkuro Hinomaru
This article is about a fictional Mini 4WD car. Remove this notice if the car has a Mini 4WD kit released by Tamiya​.
Dash-05 Dame the Dancing Doll
No.
N/A
Series
N/A
Chassis(s)
Presumely the Type series chassis
Release Date
N/A
In fictional media
First Appearance
Shin Dash! Yonkuro
Owner
Rinko Sumeragi
The Dash-05 Dame the Dancing Doll (Japanese: ダッシュ05号 D.D.D., Dasshu Zerogo-gō Dimu za Danshingu Dōru) is a fictional Mini 4WD car that appears in the manga Shin Dash! Yonkuro as the primary Mini 4WD car for Rinko Sumeragi.
It was never released as the Mini 4WD car kit.
General info
Edit
The Dame the Dancing Doll featuring the curved, open wheel bodyshell design that has the large blue canopy that occupies the bodyshell from the front to the middle.
Instead of one fan, the car has 3 fans to provide more downforce effect.
The headlights were also moved from the middle to the front.
The bodyshell is mainly in red.
In the manga
Edit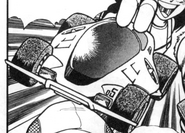 In Shin Dash! Yonkuro, Rinko, along with Shinkuro and Punkuro, receives their new machine from her brother Kaidanji, much to Yonkuro and Tankuro's dismay as Mr. Sumeragi didn't made the new cars for them.
Tamiya catalog
Edit
Custom models
Edit
Artworks
Edit
See also
Edit
Community content is available under
CC-BY-SA
unless otherwise noted.