Dash-2 Burning Sun
No.
18015 (Type-1)
18026 (Type-3)
18628 (MS)
94675 (MS Finished Model)
Series
Racing Mini 4WD (Type-1/Type-3)
Mini 4WD PRO (MS/MS Finished model)
Chassis(s)
Type-1 Chassis (Type-1)
Type-3 Chassis (Type-3)
MS Chassis (MS/MS Finished Model)
Release Date
1989 (Type-1)
1990 (Type-3)
2008 (MS)
2009 (MS Finished model)
In fictional media
First Appearance
Dash! Yonkuro
Owner
Dankuro 'Tankuro' Toda
Dash-2 Burning Sun
(ダッシュ2号・太陽) is a
Racing Mini 4WD
car released by Tamiya in 1989.
It is featured in manga and anime Dash! Yonkuro as Dankuro 'Tankuro' Toda's machine, which was then upgraded into Dash-02 Neo Burning Sun later in the story. It was also featured in the on-going manga Hyper Dash! Yonkuro.
General info
The Burning Sun features the blocky body design that was inspired by the designs of the war tanks. It is mainly in green, with red and yellow color scheme mixed onto it.
The '2' decals, the 'Tank!' decal and the CoroCoro Dragon decals were presented on the bodyshell.
The original Type-1 variant comes with the turbo-end bodycatch and the battery clip, which are what the other Type-1 Chassis machines lacks. The Type-3 variant comes with the optional rear wing that can be attached to the bodyshell. Both Type-1 and Type-3 variants came equipped with the mid-diameter wheels, with the high-profile spike tires for the former and the slick tires for the latter.
The MS variants comes with the large-diameter wheels paired with low-profile spikes tires. It is equipped with N-02 and T-01 units. It also came with the optional 496 bumper for display purpose.
In the manga and anime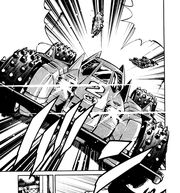 In
Dash! Yonkuro
, Tankuro received the Burning Sun from Mr. Sumeragi after the Dash Warriors was formed. The Burning Sun is heavier and tougher than the other initial Dash machines at that time.
Later in the Mini 4WD tournament arc, in order to find out the secrets behind Momotaro's Crimson Glory's superior performance, Tankuro modified his Burning Sun into the FM machine, the Neo Burning Sun, but at the cost of losing the Horizon lineage (The rear-motor-layout) the Dash machines has.[1]
The Burning Sun was once again Tankuro's machine in Hyper Dash! Yonkuro, where he uses it on the street Mini 4WD races.[2] It was eventually replaced by the Burning God Sun.[3] What happened to the original Burning Sun is unknown.
Technical info
Length: 127 mm (Type-1/Type-3), 152 mm (MS)
Width: 81 mm (Type-1), 86 mm (Type-3), 92 mm (MS)
Height: 43 mm (Type-1/Type-3), 46 mm (Type-3, with wing attached)
Chassis: Type-1 Chassis, Type-3 Chassis, MS Chassis
Gear set(s): 6.4:1 and 5:1 (Type-1/Type-3), 4:1 (MS)
Gallery
Boxarts
Trivia
The Burning Sun is the first and only Type-1 Chassis car that comes with the 5:1 gear set, which is one of the common gear sets for the Type-3 Chassis car kits.

It is also the very first car to comes with the optional parts, namely the turbo-end bodycatch and the battery clip for the Type-1 variant and the rear wing for the Type-3 variant.
References
↑ Chapter 1 of Hyper Dash! Yonkuro.
↑ Chapter 4 of Hyper Dash! Yonkuro.
See also
External links