Tags:

apiedit

,

Visual edit

Tags: apiedit, Visual edit

Line 35:
Line 35:
 

'''Chassis: '''Type-3 Chassis, Super-II Chassis

 

'''Chassis: '''Type-3 Chassis, Super-II Chassis

 
 
−

'''Gear set(s):''' 5:1 and 6.4:1 (Type-3 Chassis variant only), 4.2:1 (Premium)

+

'''Gear (s):''' 5:1 and 6.4:1 (Type-3 Chassis variant only), 4.2:1 (Premium)

 
 
 

== Gallery ==

 

== Gallery ==
---
Revision as of 11:44, 22 June 2016
Dash-4 Cannonball (ダッシュ4号・弾丸) is a Mini 4WD car released by Tamiya in 1990. The Premium version with Super-II Chassis was also released as limited edition model.
It was featured in Dash! Yonkuro as Koji 'Punkuro' Jimi's primary machine. It was also features in the on-going manga, Hyper Dash! Yonkuro.
General Info
The Cannonball featured a leaf-green bodyshell that has the long-nose body style similar to western sports cars. There is also a pair of headlights on the front while on the rear is a spoiler with four tail pipes underneath it.
As usual for a Dash machine car, it has the CoroCoro Dragon stickers.
The original model was equipped with middle-diameter 8-hole Hotshot-type wheels paired with high-profile slick tires (Which is originally a Grade-Up Part), making it the first car to have such accessory by default.
The Premium version has the large-diameter 5-spoke TZ-type wheels paired with Avante-type slick tires. Both the Chassis and the wheels were modeled in gun metal color.
In the Manga and Anime
In Dash! Yonkuro, it replaces the Falcon Jr. as Punkuro's primary machine throughout the original series. The Cannonball has higher acceleration performance compared to the others. Like the rest of the Dash machines, it is equipped with the special chassis.
The car also has a special device known as the Condenser Circuit (コンデンサー回路) which, when in use, sends large amounts of electricity to the motor, causing an immediate, massive increase in acceleration performance. However, it was also a major weakness: since the Condenser Circuit sends massive amounts of electricity to the motor, the motor will break or explode after use, completely breaking the car in the process. Punkuro would only use it when he is prepared for such an event.
Punkuro later gave the Condenser Circuit to Tankuro for his Neo Burning Sun before the final race at the start of the National Mini 4WD Championship.
Due to Hyper Dash! Yonkuro ignores the events of Shin Dash! Yonkuro, it has two successors: The Dash-04 Cannonball Weil and the Cannon Dead Ball.
Technical Info
Length: 127 mm (normal), 151 mm (Premium)
Width: 86 mm (normal), 97 mm (Premium)
Height: 53 mm (normal)
Chassis: Type-3 Chassis, Super-II Chassis
Gear Set(s): 5:1 and 6.4:1 (Type-3 Chassis variant only), 4.2:1 (Premium)
Gallery
Boxarts
Images
Trivia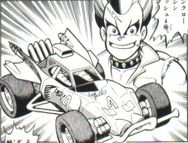 See Also
External Links