Tags: apiedit, Visual edit

Line 32:
Line 32:
 

<gallery>

 

<gallery>

 

Dash4DancingDollBoxart.jpg

 

Dash4DancingDollBoxart.jpg

 
+

</gallery>

 
+
 
+

=== Images ===

 
+

<gallery>

 
+

Dash-5 (original version).jpg|Dash-5 Dancing Doll, original version.

 
+

010b.jpg|Dash-5 Dancing Doll, as seen in ''Dash! Yonkuro''.

 

</gallery>

 

</gallery>

 
 
---
Revision as of 18:34, 15 April 2016
The Dash-5 Dancing Doll (ダッシュ5号 D.D.) is a Racing Mini 4WD car released by Tamiya in 1990.
It is featured in manga and anime Dash! Yonkuro as Rinko Sumeragi's machine. It is also featured in the on-going manga Hyper Dash! Yonkuro.
General info
The Dancing Doll featuring the blocky body design that has the large blue cockpit piece that occupies the bodyshell from the front to the middle. It also has a pair of large headlights that placed besides the cockpit. There's pairs of vertical and horizontal fins on the middle to the rear of the body and there's the large fan on the back.
The bodyshell is mainly in red, with white trims on it. The '5' and CoroCoro Dragon decals are also presents.
It is equipped with the mid-diameter wheels paired with high-profile slick tires.
In the manga and anime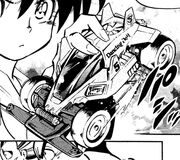 In Dash! Yonkuro, Rinko received the car from her brother Kaidanji after the Dash Warriors was formed. The Dancing Doll has the large fan that spins to creates downforces, similar to the wing cars. Like the rest of the Dash machines, it is equipped with the special chassis.[1]
In Hyper Dash! Yonkuro, the Dancing Doll was eventually replaced by the Dancing Divine Doll after the Dash Warrior's first win against Dark Dominion in the series of races. What happened to the Dancing Doll after that is unknown.[2]
Technical info
Length: 127 mm
Width: 86 mm
Height: 52 mm
Chassis: Type-3 Chassis
Gear set(s): 6.4:1 and 5:1
Gallery
Boxarts
Images
Trivia
During the serialization of Dash! Yonkuro on CoroCoro Comic magazine, the Dancing Doll, along with Dash-4 Cannonball, weren't offcially named and their design wasn't finalized when they debuted. Those were corrected in the tankoubon version of the manga.
References
See also
External links
Community content is available under
CC-BY-SA
unless otherwise noted.