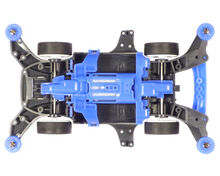 The MA Chassis (MAシャーシ) is a Mini 4WD Chassis released by Tamiya in 2013. It was first released with Blast Arrow. The 'MA' stands for 'Midship Aero'.
General info
The MA Chassis is essentially a MS Chassis with many aero-dynamic designs of AR Chassis. The chassis is now in one piece instead of 3-pieces like the MS Chassis was, and like AR Chassis, the secondary parts were molded in low-friction POM plastic, eliminating the brass bearing parts. These improves the chassis' speed and acceleration performances.
Also borrowed from the AR Chassis is the rear skid bar, providing braking on the slopes section of the race course. Unlike AR Chassis, the underbody of the chassis were smooth as there's no parts (except the turn-type battery switch) under them, and there's also a air-duct for dissipate heat from the motor, which then expels through the battery switch's holes.
The side guards, which were absent from previous chassis since MS Chassis, has also returned, allowing users to install stability poles or mass dampers on them. The front bumper and rear roller stays has been extended, which results in smoother cornering and better stability.
The gear/motor cover parts use the slide-lock mechanism, allowing for easy maintenance. The gears and pinion gears remains the same as MS Chassis.
Since most of the features are borrowed from AR Chassis, it is compatible with parts made for AR Chassis, with the exceptions of the motors, gears and terminal. However, despite the fact MS and MA are both midship motor chassis, many MS Chassis components are not compatible with MA Chassis[1].
It performs much better than the MS Chassis in overall performance, and is better than the AR Chassis in terms of stability performance despite being the heaviest chassis to date.
Chassis info
Length/Width/Wheelbase: 156 mm/97 mm/80 mm
Ground clearance: 2.2 mm (with low-profile small-diameter wheels)/4.8 mm (with large-diameter wheels)
Driveshaft's length: 60 mm
Compatible gear set(s): 3.5:1, 4.1, 3.7:1
Terminal type: MS-type terminal
Weight (Chassis frame only): 77.7 g
Trivia
With the main frame's weight of 77.7g, it is the most heaviest chassis ever released.
As with MS Chassis, some large-diameter wheels are not compatible because of the chassis's midship layout.

In contrast to MS Chassis, the first MA Chassis car (Blast Arrow) was released with the low-profile small-diameter wheels, where the first MS Chassis car released (Nitro Thunder) was equipped with large-diameter wheels instead. The first stock MA Chassis car with large-diameter wheels would later released in the form of Shooting Proud Star.
With the exceptions of limited edition cars and Shooting Proud Star (and the future Hyper Dash machines), all MA Chassis car's bodyshells were inspired by real-life sports cars and race cars.
References
Community content is available under
CC-BY-SA
unless otherwise noted.