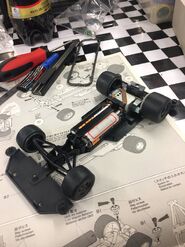 The Mini-F Chassis (ミニFシャーシ) is a chassis of Mini-F cars released by Tamiya in December 1991. It debuted with the release of Lotus type 102B.
General info
The Mini-F Chassis features a one-piece chassis frame, with the usual rear-motor and mid-batteries setup, but longer compared to a Mini 4WD chassis.
The underbody of the chassis is mostly flat, with the front wheels and front driveshaft being supports by the fixed, sandwich frame. It has the rear-wheel-drive drivetrain, with gearing is similar to the bigger 1/10 scale R/C F1 cars. The change of both pinion gear and spur gear are required if user wishes to changes the gear setup. The motor was mounted onto the rear with the motor mount.
The chassis' body attachment method is similar to those in Mini 4WD cars, with the Mini-F car's rear spoiler doubling as a body catcher.
Due to the chassis frame design, the chassis itself is somewhat soft and fragile. The front sandwich frame that holds the front driveshaft and front wheels is also fragile, meaning it can break easily under heavy impact. Furthermore, it is impossible to lubricate the pinion gear and spur gear without ruining the fair play as they were exposed to the circuit even with the body shell attached.
Since the chassis was not four-wheel drive (only rear-wheel drive), the use of the chassis is prohibited in Tamiya official race events.
Technical info
Chassis Data
Length
164.5 mm
Width
86 mm
Wheelbase
110 mm
Ground Clearance
2 mm
Driveshaft Length
72 mm (front)
60 mm (rear)
Compatible Gear Set(s)
5:1, 3.8:1
Roller Down Thrust Angle
N/A
Terminal Type
Mini-F-type
Weight
119 g (without alkaline batteries)