"Impossible! How the legendary dragons got into this world!?"- Yonkuro Hinomaru
This article is about a fictional Mini 4WD car. Remove this notice if the car has a Mini 4WD kit released by Tamiya​.
Dash-CBX Proto-Emperor Coretank
No.
Unknown
Series
Unknown
Chassis(s)
Custom-made chassis
Release Date
Unknown
In fictional media
First Appearance
Shin Dash! Yonkuro
Owner
Jin Kidouin
The Dash-CBX Proto-Emperor Coretank (Japanese: ダッシュCBX プロトエンペラーコアタンク, Dasshu CBX Puroto Enperā Koatanku) is a the fictional minicar that appear in Shin Dash! Yonkuro. It was owned by Jin Kidouin.
General info
Edit
Despite bearing the name 'Proto-Emperor', it doesn't resembling the Emperor-type Mini 4WD car and what's more, it is not the true Mini 4WD car, but rather the tank-wheel minicar.
It was mainly in purple color.
In the manga
Edit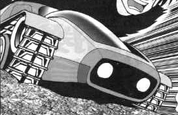 In Shin Dash! Yonkuro, it is one of the Dash Combine machines along with Geo-Emperor, Blazing Sun and Command Saurus. It is the core part of the Dash Combine.
Much like the other Dash Combine machines, it is unknown that who create the minicar.
See also
Edit
Community content is available under
CC-BY-SA
unless otherwise noted.