Tags:

apiedit

,

Visual edit

Tags:

apiedit

,

Visual edit

Line 5:
Line 5:
 
 
 

Sadly, the line-up was discontinued a year after its introduction, following the lack of interest as well as parts incompatibility between the earlier GUP and R/C Mini 4WD cars. Sports car bodied Mini 4WD cars (introduced in this line) would be later re-introduced with the [[Mini 4WD PRO]] series two years later.

 

Sadly, the line-up was discontinued a year after its introduction, following the lack of interest as well as parts incompatibility between the earlier GUP and R/C Mini 4WD cars. Sports car bodied Mini 4WD cars (introduced in this line) would be later re-introduced with the [[Mini 4WD PRO]] series two years later.

 
+
 
+

Because the line was originally marketed as a spin-off rather than part of main Mini 4WD line, most official literature and history charts often never mentions R/C Mini 4WD. However, the [[TR-1 Chassis]] associated with the line can be used on official Tamiya races as long as alkaline batteries are used and (obviously) the radio control system is not installed.

 
 
 

== List of Mini 4WD cars ==

 

== List of Mini 4WD cars ==
---
Revision as of 21:45, 15 May 2016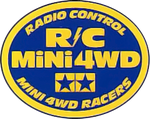 The R/C Mini 4WD (ラジ四駆 Raji Yonku) is a Mini 4WD line-up introduced by Tamiya in 2002.
The unique of this line-up is that racer can control the car's acceleration through the R/C system, in a way that it can be described as 'a slot car with no wire and has four-wheel-drive'. Most of the cars in the line-up are licensed real-life road cars and race cars.
Sadly, the line-up was discontinued a year after its introduction, following the lack of interest as well as parts incompatibility between the earlier GUP and R/C Mini 4WD cars. Sports car bodied Mini 4WD cars (introduced in this line) would be later re-introduced with the Mini 4WD PRO series two years later.
Because the line was originally marketed as a spin-off rather than part of main Mini 4WD line, most official literature and history charts often never mentions R/C Mini 4WD. However, the TR-1 Chassis associated with the line can be used on official Tamiya races as long as alkaline batteries are used and (obviously) the radio control system is not installed.
List of Mini 4WD cars
Community content is available under
CC-BY-SA
unless otherwise noted.