Tags: apiedit, Visual edit

Tags: apiedit, Visual edit

Line 12:
Line 12:
 

* [[Hornet Jr.]] (Type-1)

 

* [[Hornet Jr.]] (Type-1)

 

* [[The Fox Jr.]] (Type-1)

 

* [[The Fox Jr.]] (Type-1)

−

* [[Boomerang Jr.|Boomerang]] (Normal, RS) (Type-1, VS Chassis)

+

* [[Boomerang Jr.]] (Normal, RS) (Type-1, VS Chassis)

 

* [[Bigwig Jr.]] (Type-1)

 

* [[Bigwig Jr.]] (Type-1)

 

* [[Falcon Jr.]] (Type-1)

 

* [[Falcon Jr.]] (Type-1)
---
Revision as of 06:36, 31 May 2016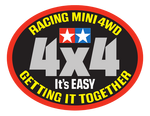 The Racing Mini 4WD (レーサーミニ四駆) series is the second Mini 4WD line-up produced by Tamiya.
Similar to the Original Mini 4WD series, the first few models were based on the bigger cars, and in Racing Mini 4WD series' case, their R/C buggy counterparts (Avante Jr. for example).
However, following the feedbacks from their customers that they want the mini cars to go fast, Tamiya began to develops and releases the Grade-Up Parts for the mini cars. Starting with Avante Jr., Tamiya began to develops and making the race-orientated chassis as well as making the guide rollers and bearing attachments the standards for future chassis to come. Additionally, the specially-designed race circuits for Mini 4WD cars were made to prevents kids from getting into traffic accident due to them follows the running mini cars.
The manga series Dash! Yonkuro and Mini 4 Top featured machines from this line-up.
List of Mini 4WD cars
Related
Community content is available under
CC-BY-SA
unless otherwise noted.