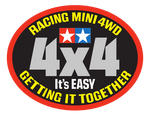 The Racing Mini 4WD (レーサーミニ四駆) series is the second Mini 4WD line-up produced by Tamiya.
Similar to the Original Mini 4WD series, the first few models were based on the bigger cars, and in Racing Mini 4WD series' case, their R/C buggy counterparts (Avante Jr. for example).
However, following customer feedback that they want the mini cars to go fast, Tamiya developed and released the Grade-Up Parts for the mini cars. Starting with Avante Jr., Tamiya began production of the race-orientated chassis as well as making the guide rollers and bearing attachments as the standards for future chassis to come. Additionally, the specially-designed race circuits for Mini 4WD cars were made to prevent children from getting into accidents as a result of the following cars, as well to ensure the cars do not run away from the owners.
The manga series Dash! Yonkuro and Mini 4 Top featured machines from this line-up.
List of Mini 4WD cars
Hotshot Jr. (Type-1)
Hornet Jr. (Type-1)
The Fox Jr. (Type-1)
Boomerang Jr. (Normal, RS) (Type-1, VS Chassis)
Bigwig Jr. (Type-1)
Falcon Jr. (Type-1)
Super Dragon Jr. (Normal, Premium) (Type-1, VS Chassis)
Thunder Dragon Jr. (Normal, Premium) (Type-1, VS Chassis)
Thunder Shot Jr. (Normal, Black Special, RS) (Type-1, VS Chassis)
Super Sabre Jr. (Normal, RS) (Type-1, VS Chassis)
Fire Dragon Jr. (Normal, Premium) (Type-1, VS Chassis)
Dash-1 Emperor (Nomral, Premium) (Type-1, Type-3, Super-II)
Avante Jr. (Normal, RS) (Type-2, VS Chassis)
Dash-2 Burning Sun (Type-1, Type-3)
Grasshopper II Jr. (Type-2)
Rising Bird (Type-3)
Vanquish Jr. (Normal, RS) (Type-2, VS Chassis)
Dash-3 Shooting Star (Type-3)
Saint Dragon Jr. (Normal, RC Ricky version) (Type-3, Type-4)
Terra Scorcher Jr. (Normal, RS) (Type-2, VS Chassis, Super-II Chassis)
Dash-4 Cannonball (Normal, Premium) (Type-3, Super-II Chassis)
Dash-5 Dancing Doll (Normal, Premium) (Type-3, Super-II Chassis)
Winning Bird (Normal, 21st Century Edition) (Type-3, VS Chassis)
Egress Jr. (Type-4, VS Chassis)
Dash-01 Super Emperor (Normal, Premium) (Type-3, Super-II Chassis)
Dash-0 Horizon (Normal, Premium) (Zero Chassis, Super-II Chassis)
Avante 2001 Jr. (Zero Chassis, VS Chassis)
Crimson Glory (FM Chassis)
Astute Jr. (Normal, RS) (Zero Chassis, Super-II Chassis)
Dash-02 Neo Burning Sun (FM Chassis)
Manta Ray Jr. (Zero Chassis, VS Chassis)
Dash-001 Great Emperor (Normal, Premium) (Zero Chassis, Super-II Chassis)
Super Astute Jr. (Normal, Advanced version) (Zero Chassis)
Dash-X1 Proto-Emperor (Body Parts Set, Premium) (Super-II Chassis)
Proto-Emperor ZX (Normal) (Zero Chassis)
Bear Hawk Jr. (Normal, RS) (Type-5, Super-II Chassis))
Aero-Solitude (FM Chassis)
Top-Force Jr. (Normal, Evolution version) (Type-5, VS Chassis)
Terra Conqueror Jr. (Normal, RS) (Type-5, VS Chassis)
Dyna Storm Jr. (Normal, RS) (Type-5, Super-II Chassis)
Dash-03 Super Shooting Star (Type-5)
Super Avante (Normal, RS) (Type-5, VS Chassis, Super-II Chassis)

Dash-CB1 Geo Emperor

(Type-5)
Mad Bull Jr. (Super TZ-X Chassis)
Baja King Jr. (Super TZ-X Chassis)
Slash Reaper (Normal, color specials) (VS Chassis, AR Chassis)
Astute Open Top (Super-II Chassis)
Thunder Shot Open Top (Super XX Chassis)
Super Sabre Open Top (VS Chassis)
Top-Force Evolution Open Top (VS Chassis)
Terra Conqueror Open Top (Super-II Chassis)
Daihatsu Kopen RMZ and XMZ (VS Chassis)
Daihatsu Kopen RMZ (VS Chassis)
Daihatsu Kopen XMZ (Super-II Chassis)
Mini 4WD Shirokumakko (Super-II Chassis)
Mini 4WD Panda Racer (Super-II Chassis)
Mini 4WD Kumamon Version (Super-II Chassis)
Mini 4WD Merlion Edition - Singapore 50th Anniversary (Super-II Chassis)
Related
Mini 4WD series

1980
Original Mini 4WD · ·
1990
· · · · · ·
2000
·
2010
2020