The Street Mini 4WD is a unofficial race category where the Mini 4WD cars runs in the open space without circuit with the racer following them and guides the car with the guide stick.
In street racing, racers are commonly uses weak motors such as Stock motor or Touch Dash Motor and high gear ratio setups such as 5:1 and 4:1, although it all depends on the type of the race track. Typically, 4 rollers setup is used as basic setting for a Mini 4WD car developed for street races (2 on the front bumper and 2 on the side guard). The purpose for this setting is to help the racer to guide the car.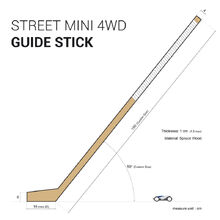 Although the Mini 4WD cars were produced in Japan, the street races have obtain a lot of interest in Italy where racers runs for many years in this kind of competitions as well as in the usual on-track ones.
The street racing in Italy employ a regulation based on the official Tamiya race regulation, but there aren't restricted to only Tamiya models and Grade-Up Parts. (For example, the use of battery from the other brands is allowed.)
One of the basic concepts that the Street Mini 4WD regulation imposes is to be able to develop a Mini 4WD car as much as possible similar to a real racing car.
The street Mini 4WD races are based on the races that were represented in the manga and anime Dash! Yonkuro and the on-going Hyper Dash! Yonkuro manga.
External link