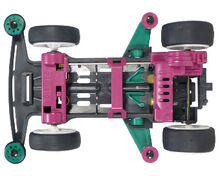 The Super-1 Chassis (Japanese: スーパー1シャーシ, Sūpā Wan Shāshi) is a Mini 4WD chassis released by Tamiya in June 1993. It was first released with the release of Liberty Emperor. It is the further improved version of Zero Chassis.
General info
Edit
Being a evolution to the Zero Chassis, the Super-1 Chassis shares many parts with it, but the main chassis parts is a major different between the two.
First, the front bumper has been redesigned and as the result it lowered the roller's height. The side-guard attachment on the main chassis part has also improved. Every kits with Super-1 Chassis comes with a side-guard, and user can decides whetever use it or not.
Despite these improvements, the chassis's structure, especially the front bumper, are still weak (but not to that of Zero Chassis), necessitating the use of reinforced parts (i.e. FRP plate).
The design was later further improved into Super-II Chassis.
Chassis frame
Edit
Side-guards
Edit
Normal type
Edit
V-Machine type
Edit
Technical info
Edit
Chassis Data
Length
131 mm
Width
90 mm
Wheelbase
80 mm
Ground Clearance
6 mm (With large-diameter wheels)
3 mm (With small-diameter wheels with high-profile tires)
Driveshaft Length
60 mm
Compatible Gear Set(s)
5:1
4.2:1
4:1
3.5:1 (Special Ratio Gearing only)
Roller Down Thrust Angle
8
Terminal Type
Zero-type
Weight
With batteries


111 g

}
Without batteries


61 g
Chassis Stats
Toughness
2
Acceleration
4
Cornering
4
Stability
3
Adaptability
3
Ease of Maintenance
3
This is the first Mini 4WD car chassis to have the optional side-guard to be included in every kits.
With the exceptions of the few regular Mini 4WD cars and limited Mini 4WD cars, the A parts for the chassis were usually molded in red-purple for Super Mini 4WD cars and green for Fully Cowled Mini 4WD cars.
There are two side-guards available depends on the kit: the normal curve-type and the flat V-machine type.
Community content is available under
CC-BY-SA
unless otherwise noted.