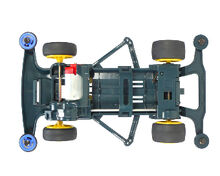 The 
Super-FM Chassis
(スーパーFMシャーシ) is a Mini 4WD Chassis released by Tamiya in June 1996. It debuted with the release of
Brocken Gigant
. It is the Super series chassis version of the 
FM Chassis
.
General info
Like the Super-1 Chassis, the gear box is now attached to the motor case instead of the main chassis, and the front bumper is similar to that of Super-1 Chassis's. The Super-FM Chassis now comes with the previously optional rear stay, the first chassis to do so.
However, the changes to the chassis is somewhat minor and as a result it shares many weaknesses with the FM Chassis. The propeller shaft and ground gears were unchanged for the new chassis, resulting in power loss.
Due to aforementioned problems, the chassis performs no better than its predecessor.
Technical info
Chassis Data
Length
144 mm (with rear roller stay)
Width
90 mm
Wheelbase
83 mm
Ground Clearance
7 mm (With large-diameter wheels)
3.5 mm (With small-diameter wheels with high-profile tires)
Driveshaft Length
60 mm
Compatible Gear Set(s)
5:1, 4.2:1, 4:1, 3.5:1
Roller Down Thrust Angle
N/A
Terminal Type
B-type
Weight
117 g (With large-diameter wheels and alkaline batteries)
Gallery