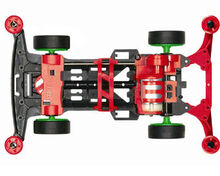 The Super-II Chassis (Japanese: スーパーIIシャーシ, Sūpā Tsū Shāshi) is a Mini 4WD chassis released by Tamiya in December 2010, with the release of Magnum Saber Premium. The chassis is the further improved version of the Super-1 Chassis.
General info
Edit
The main chassis parts, especially the front bumper, has been reinforced. The front bumper has also extended and added few attachment holes for the use of grade-up parts. The battery switch has been changed from slide-type to rotate-type, and the battery clip's design was also changed to the much more rigid one. There's also the newer hard-points for rear stay parts, as seen in Super X Chassis and later chassis.
Some kits came with the Side-Guard EX attachment which can be installed on under the middle of the chassis.
Performance-wise, it behaves similar to that of VS Chassis, except that Super-II Chassis has greater adaptability than VS Chassis.
Technical info
Edit
Chassis Data
Length
151 mm (With rear roller stay)
Width
97 mm
Wheelbase
80 mm
Ground Clearance
5.8 mm (With large-diameter wheels)
2.8 mm (With small-diameter wheels)
Driveshaft Length
60 mm
Compatible Gear Set(s)
5:1
4.2:1
4:1
3.7:1
3.5:1
Roller Down Thrust Angle
5
Terminal Type
Super-II-type
Weight
With batteries:


115 g


Without batteries:


57 g
Chassis Stats
Toughness
3
Acceleration
5
Cornering
5
Stability
3
Adaptability
4.5
Ease of Maintenance
3
A while after the release of Super-II Chassis, there are complaints that the screw that holds the gearbox would become loose due of frequent removes and reattaches. Tamiya would later includes the easy locking gear cover (originally a Grade-Up Parts) as standard in most Super-II Chassis cars starting with Dash-1 Emperor Premium.
This is the first Mini 4WD chassis to be recalled. Soon after the release of Magnum Saber Premium, Tamiya discovered the mold defects on the chassis and recalled all of the original Magnum Saber Premium kits. This since has been fixed with the second mold revision.
The hole on the centerfront of the front bumper was designed to allows the attachment of certain bodyshell's additional parts. (i.e. Liberty Emperor and Dash-001 Great Emperor's front spoiler)