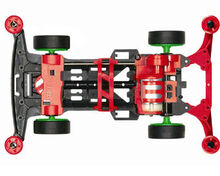 The Super-II Chassis (スーパーIIシャーシ) is a Mini 4WD chassis released by Tamiya in 2010, with the release of Magnum Saber Premium. The chassis is the further improvement version of the Super-1 Chassis.
The main chassis parts, especially the front bumper, has been reinforced. The front bumper has also extended and added few screw holes for the use of grade-up parts. The battery switch has been changed from slide-type to rotate-type, and the battery clip's design also changed to the much more rigid one. There's also the newer hard-points for rear stay parts, as seen in Super X Chassis and later chassis.
The motor and gear case's design has also changed. However, users were complains that the screw that holds the gearbox would loose due of frequent removals and reattaches. Because of this, Tamiya would includes the one-lock gearbox (originally a grade-up parts) in every Super-II Chassis cars since Dash-1 Emperor Premium.
Most of the Mini 4WD cars equipped with Super-II Chassis are molded in normal ABS plastic, but with few exceptions: The chassis comes with the Magnum Saber Premium and Sonic Saber Premium were molded in polycarbonate-mixed ABS plastic, while the ones comes with Victory Magnum Premium and Vanguard Sonic Premium are molded in carbon-mixed ABS plastic.
Performance-wise, it behaves similar to that of VS Chassis, except that Super-II Chassis has greater expandability than VS Chassis.