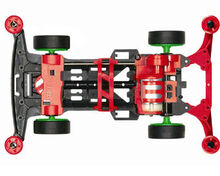 The Super-II Chassis (スーパーIIシャーシ) is a Mini 4WD chassis released by Tamiya in 2010, with the release of Magnum Saber Premium. The chassis is the further improvement version of the Super-1 Chassis.
General info
The main chassis parts, especially the front bumper, has been reinforced. The front bumper has also extended and added few screw holes for the use of grade-up parts. The battery switch has been changed from slide-type to rotate-type, and the battery clip's design also changed to the much more rigid one. There's also the newer hard-points for rear stay parts, as seen in Super X Chassis and later chassis.
Some kits comes with the Side-Guard EX attachment.
Performance-wise, it behaves similar to that of VS Chassis, except that Super-II Chassis has greater expandability than VS Chassis.
Technical info
Length/Width/Wheelbase: 151 mm/97 mm/80 mm
Ground clearance: 2.8 mm (with small-diameter wheels)
Driveshaft's length: 60 mm
Compatible gear set(s): 5:1, 4.2:1, 4:1, 3.5:1, 3.7:1
Terminal type: Super II-type terminal
Weight (Chassis frame only): Unknown
Trivia
While most of the Mini 4WD cars equipped with Super-II Chassis are molded in normal ABS plastic, the chassis comes with the Magnum Saber Premium and Sonic Saber Premium were molded in polycarbonate-mixed ABS plastic.
A while after the release of Super-II Chassis, users are complains that the screw that holds the gearbox would become loose due of frequent removes and reattaches. Tamiya would includes the one-lock gearbox (originally a grade-up parts) as standard in every Super-II Chassis cars starting with Dash-1 Emperor Premium.