m

Tags:

apiedit

,

Visual edit

Tags:

apiedit

,

Visual edit

Line 5:
Line 5:
 

The main chassis parts, especially the front bumper, has been reinforced. The front bumper has also extended and added few attachment holes for the use of grade-up parts. The battery switch has been changed from slide-type to rotate-type, and the battery clip's design was also changed to the much more rigid one. There's also the newer hard-points for rear stay parts, as seen in [[Super X Chassis]] and later chassis.

 

The main chassis parts, especially the front bumper, has been reinforced. The front bumper has also extended and added few attachment holes for the use of grade-up parts. The battery switch has been changed from slide-type to rotate-type, and the battery clip's design was also changed to the much more rigid one. There's also the newer hard-points for rear stay parts, as seen in [[Super X Chassis]] and later chassis.

 
 
−

Some kits comes with the Side-Guard EX attachment which can be installed on under the middle of the chassis.

+

Some kits with the Side-Guard EX attachment which can be installed on under the middle of the chassis.

 
 
 

Performance-wise, it behaves similar to that of [[VS Chassis]], except that Super-II Chassis has greater expandability than VS Chassis.

 

Performance-wise, it behaves similar to that of [[VS Chassis]], except that Super-II Chassis has greater expandability than VS Chassis.

Line 12:
Line 12:
 

'''Length/Width/Wheelbase:''' 151 mm/97 mm/80 mm<br>'''Ground clearance:''' 2.8 mm (with small-diameter wheels)<br>'''Driveshaft's length:''' 60 mm<br>'''Compatible gear set(s):''' 5:1, 4.2:1, 4:1, 3.5:1, 3.7:1<br>'''Terminal type:''' Super II-type terminal<br>'''Weight (Chassis frame only):''' Unknown

 

'''Length/Width/Wheelbase:''' 151 mm/97 mm/80 mm<br>'''Ground clearance:''' 2.8 mm (with small-diameter wheels)<br>'''Driveshaft's length:''' 60 mm<br>'''Compatible gear set(s):''' 5:1, 4.2:1, 4:1, 3.5:1, 3.7:1<br>'''Terminal type:''' Super II-type terminal<br>'''Weight (Chassis frame only):''' Unknown

 

== Trivia ==

 

== Trivia ==

−

* While most of the Mini 4WD cars equipped with Super-II Chassis are molded in normal ABS plastic, the chassis comes with the [[Magnum Saber|Magnum Saber Premium]] and [[Sonic Saber|Sonic Saber Premium]] were molded in polycarbonate-mixed ABS plastic. The chassis comes with the [[Victory Magnum|Victory Magnum Premium]] and the [[Vanguard Sonic|Vanguard Sonic Premium]] were molded in carbon-mixed ABS plastic.

+

* While most of the Mini 4WD cars equipped with Super-II Chassis are molded in normal ABS plastic, the chassis with the [[Magnum Saber|Magnum Saber Premium]] and [[Sonic Saber|Sonic Saber Premium]] were molded in polycarbonate-mixed ABS plastic chassis with the [[Victory Magnum|Victory Magnum Premium]] and the [[Vanguard Sonic|Vanguard Sonic Premium]] were molded in carbon-mixed ABS plastic.

 
 
−

* A while after the release of Super-II Chassis, users are complains that the screw that holds the gearbox would become loose due of frequent removes and reattaches. Tamiya would includes the one-lock gearbox (originally a grade-up parts) as standard in every Super-II Chassis cars starting with [[Dash-1 Emperor|Dash-1 Emperor Premium]].

+

* A while after the release of Super-II Chassis, that the screw that holds the gearbox would become loose due of frequent removes and reattaches. Tamiya would includes the one-lock gearbox (originally a grade-up parts) as standard in every Super-II Chassis cars starting with [[Dash-1 Emperor|Dash-1 Emperor Premium]].

−

* This is the first Mini 4WD chassis to be recalled. Soon after the release of Magnum Saber Premium, Tamiya discovered the mold defects on the chassis and has recall all the Magnum Saber Premium kits. This since has been fixed with the second mold revision.{{Navbox Chassis}}[[Category:Super series chassis]]

+

* This is the first Mini 4WD chassis to be recalled. Soon after the release of Magnum Saber Premium, Tamiya discovered the mold defects on the chassis and all the Magnum Saber Premium kits. This since has been fixed with the second mold revision.{{Navbox Chassis}}[[Category:Super series chassis]]

 

[[Category:Mini 4WD chassis]]

 

[[Category:Mini 4WD chassis]]
---
Revision as of 06:06, 9 February 2016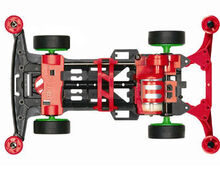 The Super-II Chassis (スーパーIIシャーシ) is a Mini 4WD chassis released by Tamiya in 2010, with the release of Magnum Saber Premium. The chassis is the further improved version of the Super-1 Chassis.
General info
The main chassis parts, especially the front bumper, has been reinforced. The front bumper has also extended and added few attachment holes for the use of grade-up parts. The battery switch has been changed from slide-type to rotate-type, and the battery clip's design was also changed to the much more rigid one. There's also the newer hard-points for rear stay parts, as seen in Super X Chassis and later chassis.
Some kits came with the Side-Guard EX attachment which can be installed on under the middle of the chassis.
Performance-wise, it behaves similar to that of VS Chassis, except that Super-II Chassis has greater expandability than VS Chassis.
Technical info
Length/Width/Wheelbase: 151 mm/97 mm/80 mm
Ground clearance: 2.8 mm (with small-diameter wheels)
Driveshaft's length: 60 mm
Compatible gear set(s): 5:1, 4.2:1, 4:1, 3.5:1, 3.7:1
Terminal type: Super II-type terminal
Weight (Chassis frame only): Unknown
Trivia
A while after the release of Super-II Chassis, there were complaints that the screw that holds the gearbox would become loose due of frequent removes and reattaches. Tamiya would includes the one-lock gearbox (originally a grade-up parts) as standard in every Super-II Chassis cars starting with Dash-1 Emperor Premium.
This is the first Mini 4WD chassis to be recalled. Soon after the release of Magnum Saber Premium, Tamiya discovered the mold defects on the chassis and recalled all of the original Magnum Saber Premium kits. This since has been fixed with the second mold revision.
Community content is available under
CC-BY-SA
unless otherwise noted.