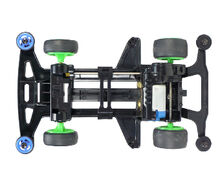 The Super TZ Chassis (Japanese: スーパーTZシャーシ, Sūpā Tīzetto Shāshi) is a Mini 4WD chassis released by Tamiya in September 1996. It debuted with the release of Cyclone Magnum.
General info
Edit
The Super TZ Chassis has the wheelbase of 82 mm, which is the same as the Type-2, Type-4 and Type-5 Chassis.
The chassis has lower center-of-gravity due to the batteries being placed at even lower than that of Super-1 Chassis and Super-FM Chassis. The front bumper was redesigned to improve its rigidity, and like Super-1 Chassis, it is equipped with 1.4 mm propeller shaft and pink crown gears. The default gear cover was designed in a way that it will compatible with 3.5:1 and 3.7:1 gear sets.
The side-guards has now became part of the chassis and are no longer removable. Like Super-FM Chassis, it comes with the optional rear roller stay. All Super TZ Chassis cars were equipped with wide-tread wheels, which improves the chassis' stability.
This chassis is also the first to use ABS plastic, while previous ones used an unintdentfied (likely regular) plastic.
Compared to Super-FM Chassis, the Super TZ Chassis has better acceleration performance. Otherwise (and the fact that Super TZ is a rear-motor chassis), all other stats are the same as Super-FM.
It was later updated into Super TZ-X Chassis and both chassis's successor is the AR Chassis.
Chassis frame
Edit
Black - Common color for normal cars. First equipped with Cyclone Magnum.
White - First released as a Grade-up Parts.
Purple - First released as a Grade-up Parts.
Red - First released as a Grade-up Parts.
Clear - First equipped with Black Stalker Full Crystal Model.
Fluorescent green - First equipped with Diospada Coltello.
Techincal info
Edit
Chassis Data
Length
146 mm (With rear roller stay)
Width
90 mm
Wheelbase
82 mm
Ground Clearance
6 mm (With large-diameter wheels)
3 mm (With small-diameter wheels with high-profile tires)
Driveshaft Length
60 mm
Compatible Gear Set(s)
5:1
4.2:1
4:1
3.7:1
3.5:1 (both G17 counter/G18 spur and Lightweight Special Ratio Gearing)
Roller Down Thrust Angle
8
Terminal Type
B-type
Weight
With batteries


117 g


Without batteries


64 g
Chassis Stats
Toughness
3
Acceleration
3.5
Cornering
4
Stability
2.9
Adaptability
3
Ease of Maintenance
3
Community content is available under
CC-BY-SA
unless otherwise noted.