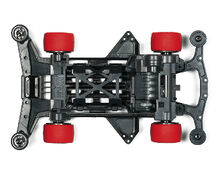 The Super XX Chassis (スーパーXXシャーシ) is a Mini 4WD chassis released by Tamiya in November 2009. It debuted with the release of Max Breaker Black Special.
General info
The Super XX Chassis is the improved version of the Super X Chassis.
While the front bumper itself remain unchanged, an additional front nose guard can be attached to widen the front bumper as well as provide frontal protection. The center parts and the side-guards were strengthen and in case of the side-guards, additional attachment holes has been added. Instead of the two-hardpoint rear stay, it comes with the newly-designed one-hardpoint rear stay with additional attachment holes.
Much like its predecessor, the Super XX Chassis allows easy access to the motor by removing the under motor cover. The official regulations prohibit the use of pink or carbon ground gears with Super XX Chassis.
Overall, the Super XX has greater expandability and more rigid than the Super X.
Technical info
Chassis Data
Length
153 mm
Width
98 mm
Wheelbase
84 mm
Ground Clearance
5.2 mm (With large-diameter wheels)
1.9 mm (With small-diameter X-type wheels
Driveshaft Length
72 mm
Compatible Gear Set(s)
5:1, 4.2:1, 4:1, 3.7:1, 3.5:1
Roller Down Thrust Angle
N/A
Terminal Type
X-type
Weight
119g (With alkaline batteries and small-diameter X-type wheels)
Gallery
Community content is available under
CC-BY-SA
unless otherwise noted.