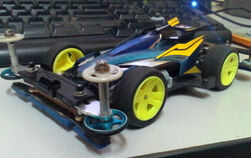 I am Yuuyatails, the founder and admin of the Mini 4WD wiki!
To tell you the truth, I was playing the Mini 4WD cars since like, well, when I was a child. The reason why I made this wiki is because I loves Mini 4WD cars.
This wiki is about anything about Mini 4WD cars by Tamiya, including any fictional works that focuses on Mini 4WD racing. (Though I am very much aware that there's the Let's & Go! Wiki but that was for only one manga series.)
I owns a customized Beat Magnum Premium, but due to the bodyshell hindering the front, I replace the bodyshell with Avante Mk.III Nero. I also owns a Shooting Proud Star, current in stock setting.
There are three rules here in Mini 4WD wiki that any contributors has to adhere:
Never messing with other contributor's profile. This is one of those things I don't want to see here or on other wiki. Sadly this has happened once not long ago. (as of June 2016)
This wiki is for Tamiya Mini 4WD cars, Grade-Up Parts, Mini 4WD-related topics, Tamiya items and Mini 4WD-focused works. If you are looking for ones like from Auldey and Marui, sorry but this wiki is not for you.
Indicate the source of images if they are not from Tamiya official website/catalogs or Shogakukan's magazines/manga/anime. It seems to me that some wiki does not cites where the images come from. Instead of using 'Permission' tag, you should use the 'Fairuse' tag while uploading the images if they are not created by you. The only exception from this rule is the boxarts.
Community content is available under
CC-BY-SA
unless otherwise noted.