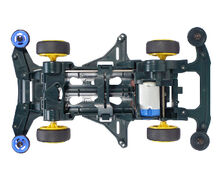 The VS Chassis (VSシャーシ) is a Mini 4WD chassis released by Tamiya in February 1999. According to the manga Mini 4WD Fighter V, the 'VS' stands for 'Victory Sprint'.
It debuted with the release of Blazing-Max.
General info
The VS Chassis has the wheelbase of 80 mm, which is the same as most of the Mini 4WD chassis.
The chassis continues the 'compact and lightweight chassis' concept that was brought by the Super-1 Chassis, with the VS Chassis having the batteries placed even lower than that of the Super-1 and the gear cover is now attached to the chassis instead of the motor case. The front bumper is in the W-shaped with multiple screw holes for parts attachment. Power transmission efficiency has further polished and has surpassed that of the Super-1 Chassis's. Those improvements makes the VS Chassis one of the high-performance chassis available.
However, it has few weaknesses; The front bumper is weak and prones to breaks, the chassis frame itself is too soft and may leads to power loss on certain circuits if the chassis twists too much. VS Chassis machines tend to course out if they enter the corner too fast while they were equipped with the front O-ring rollers.
Overall, the performance is similar to the Super-II Chassis, but with less adaptability.
Technical info
Chassis Data
Length
145 mm
Width
90 mm
Wheelbase
80 mm
Ground Clearance
5 mm (With large-diameter wheels)
1.8 mm (With small-diameter VS-type wheels)
Driveshaft Length
60 mm
Compatible Gear Set(s)
5:1
4.2:1
4:1
3.7:1
3.5:1
Roller Down Thrust Angle
6.5
Terminal Type
X-type
Weight
114g (With alkaline batteries and large-diameter wheels)
Chassis Stats
Toughness
2.9
Acceleration
5
Cornering
5
Stability
2.9
Adaptability
4
Ease of Maintenance
3
Gallery
Community content is available under
CC-BY-SA
unless otherwise noted.