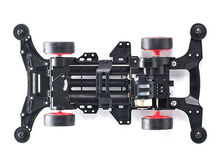 The VZ Chassis (Japanese: VZシャーシ, Byīzetto Shāshi) is a Mini 4WD Chassis released by Tamiya. It was officially unveiled in the 2019 All Japan Model & Hobby Show, which was held from September 27 to September 29, 2019. It was first equipped with Neo-VQS.
General info
Being a successor to the VS Chassis, the VZ Chassis retains several aspects from its predecessor; it has the short 80mm wheelbase, and is equipped with the same gear set, terminals, battery switch type and propeller shaft. However, the chassis now comes with a carbon pinion gear by default.
The main chassis frame features a semi-multi-subframe design, which allow it to have a similar chassis strength comparable to that of the FM-A Chassis. Like most of the current chassis, the front bumper and the rear stay has been extended, and has the default configuration of a pair of rollers on the front and 2 pairs of rollers on the rear. Various attachment holes can be spotted on the main chassis frame, allowing it to be attached with various Grade-up Parts. The small battery clip on the chassis, which inherited from its predecessor, has been strengthened.
Whereas most latest chassis has their A parts molded in the low-friction POM (Polyoxymethylene) plastic, the VZ Chassis has its A parts molded in the standard ABS plastic. The bearings are still molded in the POM plastic, minimizing power loss.
What set it apart from the rest of the chassis is that the VZ Chassis now featuring the user-removable front bumper, which was attached to the main chassis frame with a pair of truss screws in the stock setup. The VZ Chassis, as with the FM-A Chassis, features the removable rear stay. This allows racers to convert it into the bumperless setup without the need of cutting tools. However, it doesn't come with any skid bar by default.
Chassis info
Chassis Data
Length
158 mm
Width
98 mm
Wheelbase
80 mm
Ground Clearance
2.5 mm
Driveshaft Length
60 mm
Compatible Gear Set(s)
5:1
4.2:1
4:1
3.7:1
3.5:1
Roller Down Thrust Angle
N/A
Terminal Type
X-type
Weight
With batteries:
108.3g
Trivia
The VZ Chassis is the first chassis to feature a user-removable front bumper.
As with AR Chassis and FM-A Chassis, the use of normal and purple pinion gear in the VZ Chassis are strictly prohibited in race tournaments.