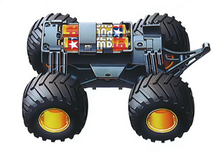 The Wild Chassis (ワイルドシャーシ) is a Mini 4WD chassis released by Tamiya in May 1987. It debuted with the release of Monster Beetle Jr. and is exclusive to the Wild Mini 4WD series.
General info
The Wild Chassis features a monster truck-like chassis frame design.
The motor was mounted into the middle of the chassis frame, located just below the battery casing. It has the very high ground clearance.
The drivetrain is a direct-type four-wheel-drive, with the gearing system consisting of one pinion gear, two primary counter gears, two secondary counter gears and two spur gear wheels (attached to the left wheels). There is a wheelie bar attached on behind the chassis to prevent the Mini 4WD cars from flipping over while doing wheelies.
All Wild Mini 4WD cars were usually equipped with the yellow wheels and lug-treaded, semi-pneumatic monster truck tires. The optional wheel roller parts can be attached to the wheels for on-road racing.
The concept of the direct-type four-wheel-drive drivetrain was later reused for the Mini 4WD PRO series.
Technical info
Chassis Data
Length
142 mm
Width
125 mm
Wheelbase
80 mm
Ground Clearance
18 mm
Driveshaft Length
73 mm (eariler batch)
83 mm (current)
Compatible Gear Set(s)
75:1, 18:1
Roller Down Thrust Angle
N/A
Terminal Type
Wild-type
Weight
190 g (without batteries)
Community content is available under
CC-BY-SA
unless otherwise noted.