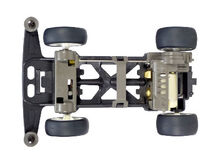 The Zero Chasssis (Japanese: ゼロシャーシ, Zero Shāshi) is a Mini 4WD chassis released by Tamiya in September 1990 with the release of Dash-0 Horizon.
General info
The chassis has lower center of gravity due to its lower height, and it is lighter compared to other chassis at the time. The side-guard has now become optional (through tune-up parts), the gear cover was now attaches to motor case instead of the main chassis, and has the hard-point for the rear stay for further tuning.
Unfortunately, it suffers one problem: due to massive weight reduction, the chassis structure is weak and its front bumper, as a result, could break easily. Tamiya would release the FRP front bumper plates to fix this problem.
The design was later reused on Super-1 Chassis.
Color
Chassis frame
A parts
Light warm gray - Common color for earlier batches for most Zero Chassis cars. First equipped with Dash-0 Horizon.
Gray - Common color for later batches for most Zero Chassis cars.
Black - First Equipped with Dash-0 Horizon Special Kit.
Technical info
Chassis Data
Length
131 mm
Width
86 mm
Wheelbase
80 mm
Ground Clearance
5 mm (With large-diameter wheels)
Driveshaft Length
60 mm
Compatible Gear Set(s)
5:1
4.2:1
4:1
3.5:1 (Special Ratio Gearing only)
Roller Down Thrust Angle
0 (Earlier mold)
5 (Current revision)
Terminal Type
Zero-type
Weight
With batteries


109 g
Chassis Stats
Toughness
2
Acceleration
2.8
Cornering
3
Stability
2
Adaptability
3
Ease of Maintenance
3
Gallery
Trivia
It is the first chassis to be equipped with the 1.4 mm propeller shaft.

It is also the first chassis to have the newly designed, pink-colored helical crown gears.
Oddly, the Dash-0 Horizon bodyshell was originally designed for Type-3 Chassis, but for some reason Tamiya switched to Zero Chassis. This results in some inconsistant gap between the body and chassis.
Earlier Zero Chassis car batches has the A parts molded in different color (light warm gray) than the main chassis frame. This practice was dropped in later batches.