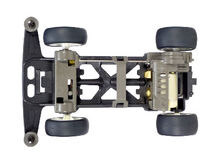 The Zero Chasssis (ゼロシャーシ) is a Mini 4WD chassis released by Tamiya in 1990 with the release of Dash-0 Horizon.
General info
The chassis has lower center of gravity due to its lower height, and it is lighter compared to other chassis at the time. The side-guard has now become optional (through tune-up parts), the gear cover was now attaches to motor case instead of the main chassis, and has the hard-point for the rear stay for further tuning.
Unfortunately, it suffers one problem: due to massive weight reduction, the chassis structure is weak and its front bumper, as a result, could break easily. Tamiya would release the FRP front bumper plates to fix this problem.
The design was later reused on Super-1 Chassis.
Technical info
Length/Width/Wheelbase: 131 mm/86 mm/80 mm
Ground clearance: Unknown
Driveshaft's length: 60 mm
Compatible gear set(s): 5:1, 4.2:1, 4:1, 3.5:1
Terminal type: Zero-type terminal
Weight (Chassis frame only): Unknown
Trivia
It is the first chassis to be equipped with the 1.4 mm propeller shaft.

It is also the first chassis to have the newly designed pink ground gears.
Oddly, the Dash-0 Horizon bodyshell was originally designed for Type-3 Chassis, but for some reason Tamiya switched to Zero Chassis. This resultS in some inconsistant gap between the body and chassis.
Community content is available under
CC-BY-SA
unless otherwise noted.